This post may contain affiliate links, please see my disclosure policy to learn more.
Baked Corned Beef Brisket is so good. Since finding this method, I haven't boiled a brisket in over 10 years.
Corned Beef Briskets are brined in a saltwater solution before being sold to the public. Unlike boiling, all flavor will be retained by cooking in the oven and the brisket can be too salty for some people. If you are worried that the brisket will be too salty you can rinse the brisket or even soak it in cold water before cooking.
This recipe will work for both the flat or point cut, the flat cut is considered a better cut of meat and has less fat. I usually make the point cut because it is less expensive. I try to choose a 3 to 5-pound brisket since they shrink a little while cooking.
Heat butter or vegetable oil in a large skillet over medium heat. Brown the brisket for 5-8 minutes per side.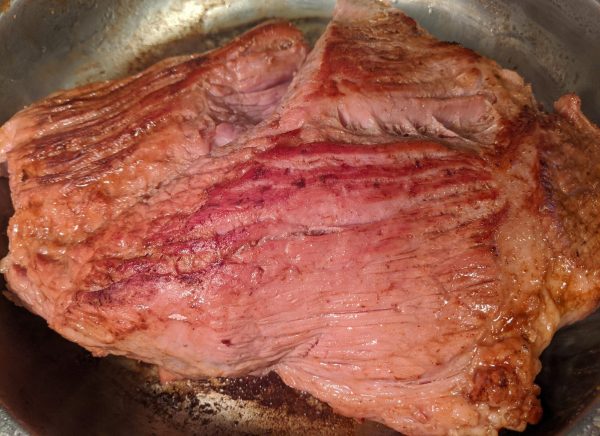 Preheat oven to 275°. Place the brisket on a rack in a roasting pan, and place 2 Tablespoons of water in the bottom of the pan. The pickling spice packet that comes with the brisket can be sprinkled on top if you'd like. Cover the brisket with sliced or minced garlic and onion slices.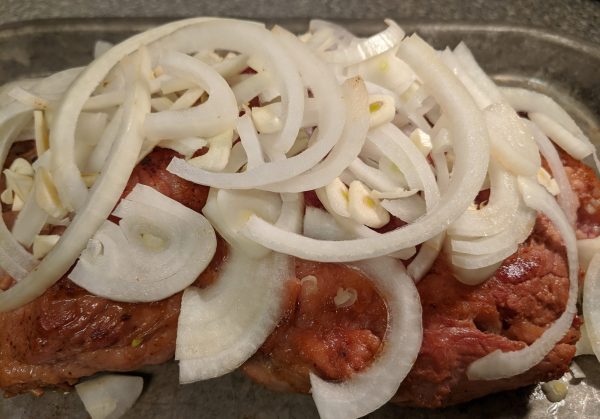 Cover the pan tightly with aluminum foil. Don't be tempted to check on it while cooking, you will cause the steam to escape which could result in dry meat. On average you will want to cook for 1 hour and 20 minutes per pound. The meat will be fall-apart fork tender when done.
Serving suggestions: goes wonderful with Baked Cabbage Steaks and Easy White Soda Bread.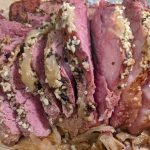 Print Recipe
Baked Corned Beef Brisket
Ingredients
1

corned beef brisket

1

Tbs

butter or vegetable oil

1

onion, sliced

4

cloves garlic, sliced (4 tsp minced)

2

Tbs

water
Instructions
Heat butter or vegetable oil in a large skillet over medium-high heat. Brown brisket 5-8 minutes per side.

Place brisket on rack in roasting pan. Add 2 Tablespoons of water to the pan. Cover brisket with sliced onion and garlic. Cover the pan tightly with aluminum foil.

Bake for 1 hour 10 minutes per pound, or until fork tender. A 5-pound brisket will take approximately 5-1/2 hours.
Nutrition
Serving:
1
serving
|
Calories:
324
kcal
|
Carbohydrates:
3
g
|
Protein:
22
g
|
Fat:
24
g
|
Saturated Fat:
8
g
|
Trans Fat:
1
g
|
Cholesterol:
86
mg
|
Sodium:
1843
mg
|
Potassium:
481
mg
|
Fiber:
1
g
|
Sugar:
1
g
|
Vitamin A:
59
IU
|
Vitamin C:
42
mg
|
Calcium:
19
mg
|
Iron:
3
mg