This post may contain affiliate links, please see my disclosure policy to learn more.
Slow Cooker Crack Chicken, another easy slow cooker recipe with minimal prep time. You can make it with 2-4 pounds of chicken, if you do reduce the amount of chicken you will want to reduce the amount of dry ranch dressing to one packet or it may be too salty. You don't need to change the amounts of the other ingredients and it won't affect the cook time. I wanted to make sure I had leftovers, so I used 4 pounds of chicken.
Place chicken breasts, cream cheese and dry ranch dressing mix in your slow cooker. If you're worried about the chicken drying out you can add 1/2 cup water or broth. I found the chicken produced a lot of juice on it's own and I did not add any extra liquid. I actually ended up pouring some liquid off before shredding and adding the remaining ingredients. Cook for 6-8 hours on low or 3-4 hours on high.
Shred the chicken, mix in the cream cheese. Add the sour cream, your choice of shredded cheese and cooked bacon. Stir until combined. If you want to add a little spice, some pickled jalapenos with jalapeno juice or pepper jack cheese, will do the trick. I served with chopped green onions, cilantro and pickled banana peppers, so my family had some choice of toppings. 
Serve on buns, in tortillas, over rice, pasta, or baked potatoes. I used the leftovers to make an awesome french bread pizza. 
For keto eat it by itself or serve in lettuce leaves or as a veggie dip.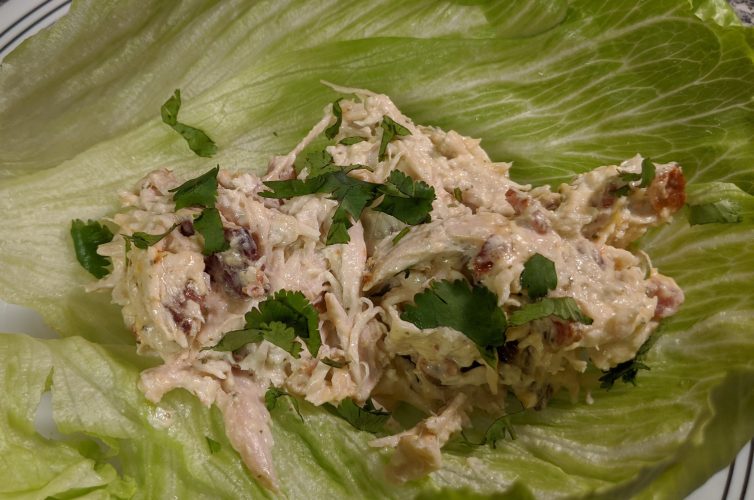 For easy cleanup I use Reynolds Slow Cooker Liners with all my slow cooker dishes.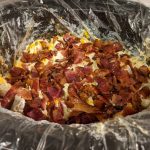 Print Recipe
Slow Cooker Crack Chicken
Ingredients
4

lbs

chicken breast

1

8 oz package

cream cheese, cut in cubes

2

packages

dry ranch dressing mix

1

cup

sour cream

2

cups

shredded cheese

1

package

bacon, cooked and crumbled

jalapeno or banana peppers with juice

(optional)
Instructions
Place chicken breasts in crockpot, sprinkle on the dry ranch dressing mix and the cream cheese.

Cook on low for 6-8 hours or on high for 3-4 hours. Shred the chicken, mix in the cream cheese. Add the sour cream, cheese and bacon. Stir until combined.

Serve on buns, in tortillas, on rice, on baked potatoes, as a dip or for keto in lettuce leaves.
Send Me Recipes!