This post may contain affiliate links, please see my disclosure policy to learn more.
French Bread is usually pretty inexpensive. Both Walmart and Target sell them for about $1 a loaf, and day-old loaves are even less expensive and seem to hold up better when covered with toppings. French Bread Pizza is very budget-friendly, and perfect for busy nights. The kids will love it and so will you.
The best thing about French Bread Pizza is that you can make it with pretty much any leftovers that you want to use up.  Check your fridge for fun and creative combinations of meats, vegetables, and cheese. I usually think about making French Bread Pizza when I have leftover spaghetti meat sauce, but the different combinations you can make are almost endless.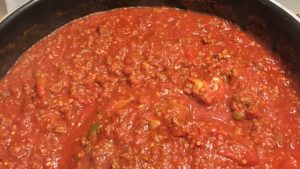 This has to be one of the easiest dinners to make. Slice a loaf of french bread in half lengthwise and place it on a large baking sheet. Top with your favorite sauce, meat, and cheese. Bake for 10-15 minutes until the cheese is melted. Cut into serving sizes, and enjoy. Serve with a salad or veggie tray.
For this French Bread Pizza, I used spaghetti meat sauce. The spaghetti meat sauce was 1 pound of cooked burger mixed with 1 jar of spaghetti sauce. I spread the meat sauce mixture on the french bread and added black olives and cheese. Easy.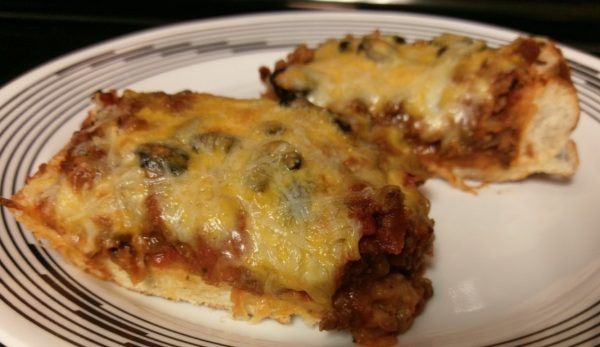 To prevent the sauce from making the bread soggy, you can put a thin layer of butter on it first. Or broil for a minute before adding the sauce.
One of my favorite combinations is to use either ranch dressing or alfredo for the sauce. Chicken, bacon, chopped artichoke hearts, and mozzarella cheese. Yum.
Leftover pulled pork or shredded chicken, with bbq sauce. Add whatever cheese and other toppings you might enjoy.
The classic. Tomato-based sauce. Pepperoni or sausage. Olives, mushrooms, peppers, or onions. With your favorite cheese.
Ham or Canadian Bacon with a tomato-based sauce, pineapple, and cheese.
Pesto sauce with spinach and artichoke, mozzarella, and Parmesan cheese.
You can cut the french bread into 4 sections and let the kids add the toppings of their choice to their section.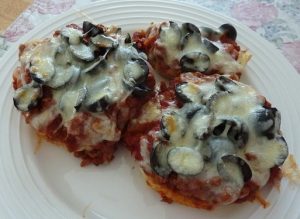 You could also make these on bagels or English muffins instead of French bread. This is a great dinner when the kids have friends over, everyone can make their own and it will be something they will enjoy eating.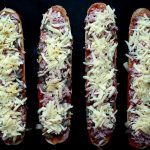 Print Recipe
French Bread Pizza
Ingredients
1

loaf french bread

sauce of your choice

toppings of your choice

cheese
Instructions
Slice French bread loaves in half lengthwise and place them on a baking sheet. To prevent the sauce from making the bread soggy, you can put a thin layer of butter on it first. Or broil for a minute before adding the sauce.

Add your favorite sauce. Tomato sauce with seasonings, pizza sauce, spaghetti sauce, alfredo sauce, ranch dressing, bbq sauce, garlic herb, pesto sauce, etc. Spreading evenly over the bread.

Add your favorite toppings and cheese.

Bake for 10-12 minutes or until the cheese is melted. Cut, serve, and enjoy.