This post may contain affiliate links, please see my disclosure policy to learn more.
I don't make bread machine bread very often, but when I do this is my favorite recipe.
You can actually use regular (all-purpose) flour for most recipes that call for bread flour, including baking in a bread machine. The texture may be slightly different and it may not rise quite as high, but other than that, you won't notice any major differences. If you want to use regular flour to make bread instead of bread flour, you may need to add a little bit more of it because it contains a lower level of gluten. When I am out of bread flour, I use 3½ cups all-purpose flour and ¼ cup whole wheat flour which is high in gluten, to make this bread.
Measuring flour tips: To measure flour correctly, be sure to use measuring cups made for measuring dry ingredients. If the flour has been sitting in the container for a while, stir it to loosen and aerate it. Lightly spoon the flour directly into the measuring cup from the container or bag. Use a butter knife to level off the flour. Do not shake the cup, tap the cup with the knife, or pack the flour down. Don't measure by scooping straight from the bag or you will end up with more flour than needed, as it will be compacted.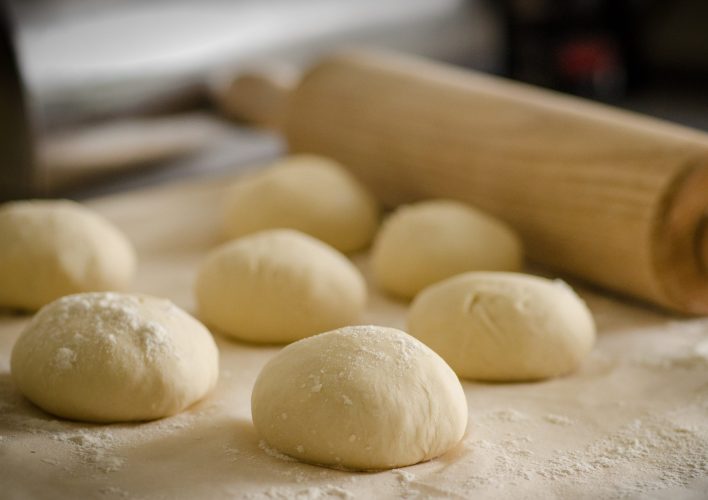 Rolls:
This recipe also makes wonderful rolls (I also use them for fry bread). Follow the instructions using the dough cycle on your bread machine.
When the dough cycle is complete, turn it out onto the floured surface and divide it into 12 pieces.
Flatten them down slightly by pressing with your hand or rolling the pin.
Place on a parchment-lined baking sheet.
Cover and let rise until doubled, about 45 minutes.
Brush with melted butter.
Bake at 350° for 12-14 minutes.
Oven temperatures vary so start checking after 10 minutes to see if done.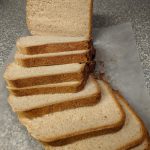 Print Recipe
Bread Machine Bread
Ingredients
1¼

cups

lukewarm milk

1

egg, beaten

2

Tbsp

butter, room temperature

¼

cup

sugar

¾

tsp

salt

3¾

cup

bread flour

1¼

tsp

active dry yeast
Instructions
Place all of the ingredients into your bread machine in the order recommended by the manufacturer.

Program the machine for basic white bread, and press Start.

When the loaf is done, remove the pan from the machine. After about 5 minutes, gently shake the pan to dislodge the loaf, and turn it out onto a rack to cool.