This post may contain affiliate links, please see my disclosure policy to learn more.
I've been making this chicken for over 25 years, and my family requests it often. They can be made on the grill or under the broiler. A simple recipe that takes less than 20 minutes from start to finish.
Chicken breasts that are all about the same size and shape cook more evenly. If you try to broil a whole chicken breast, you run the risk of the outside getting overdone while the inside is not fully cooked. With a sharp knife or kitchen shears starting at the thickest side of the chicken breast, carefully cut the breast horizontally in half to make 2 thinner pieces. I found that three chicken breast halves cut in half was the perfect amount to fill my broiler pan and should be enough to serve 4-6 people. You can also pound the chicken with a meat mallet to get thinner pieces. The broiling or grilling time will be based on how thick your chicken is.
The sauce is really simple comprised of mayonnaise, Dijon mustard, and honey. I used Woeber's Reserve Whole Grain Dijon mustard, but any mustard can be used. If you'd like to you can make extra sauce for dipping, but it really doesn't need it.
To broil you will want to place your rack 4-6 inches below the broiler elements and spray the broiler pan with non-stick spray. To grill scrape any debris from the grill grates and oil well, and preheat the grill to medium-high (450-500°F).  Place your chicken breast pieces on the broiler pan or grill, salt, and pepper to taste. Brush half of the sauce on the exposed side of the chicken, grill, or broil for 5-8 minutes. Turn chicken pieces over and brush on the remaining sauce, continue grilling or broiling for 5-8 more minutes until tender. Internal temperature should be at least 165°F.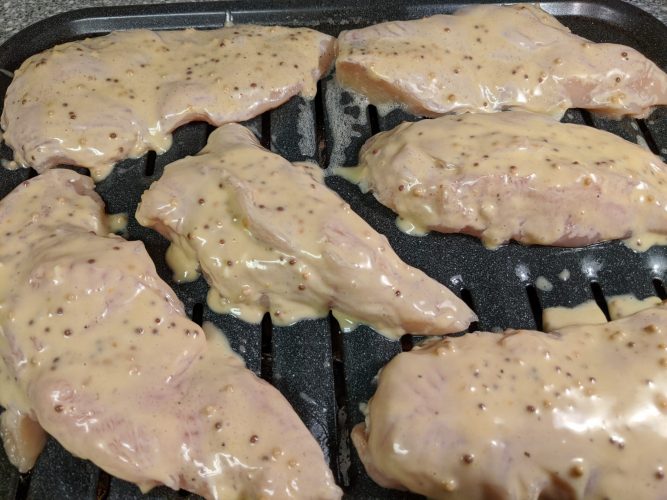 If you have any leftovers, they taste great on salads.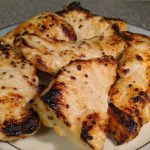 Print Recipe
Honey Dijon Chicken
Ingredients
3-4

boneless chicken breast halves

½

cup

mayonnaise or Miracle Whip

2

Tbsp

Dijon mustard (mustard of choice)

2

Tbsp

honey

salt and pepper to taste
Instructions
Mix mayonnaise, mustard, and honey together.

Place chicken breasts on an oiled grill or broiler pan.

Brush the chicken with half of the sauce. Sprinkle with salt and pepper if desired.

Grill or broil for 5-8 minutes. Turn chicken over and brush with remaining sauce. Continue grilling or broiling for 5-8 more minutes until tender or until an internal temperature of 165°.