This post may contain affiliate links, please see my disclosure policy to learn more.
Pork loin is one of our favorite inexpensive meals. You can cook pork loin on the grill, roast it in the oven, or throw it in a slow cooker. This Slow Cooker Pork Loin Roast is covered with seasonings, pan-seared, and then slow-cooked for a tender and juicy result. This recipe works well with pork loin roast or pork shoulder roast, do not substitute pork tenderloin for this recipe, as that is a different, smaller cut of pork.
The cooking time will vary depending on the cut of meat you use. Pork loin roast is a lean cut of meat without a lot of fat so it cooks fairly fast 4-5 hours on low or 2-3 hours on high. You can use a meat thermometer that can stay in your crockpot with the lid on, to ensure it doesn't overcook. A pork shoulder roast is a tougher, fattier cut of meat, so it requires a longer cooking time. To get fall apart tender and break down the tissues and fat it will need to cook on low for 10-12 hours or on high for 6-8 hours.
Browning the pork roast before placing it in the slow cooker adds extra flavor by locking in the juices and caramelizing the natural sugars in it. If you're short on time, you can skip browning the pork and simply season it and add it straight to the slow cooker. I do think it's worth the extra effort to brown it first.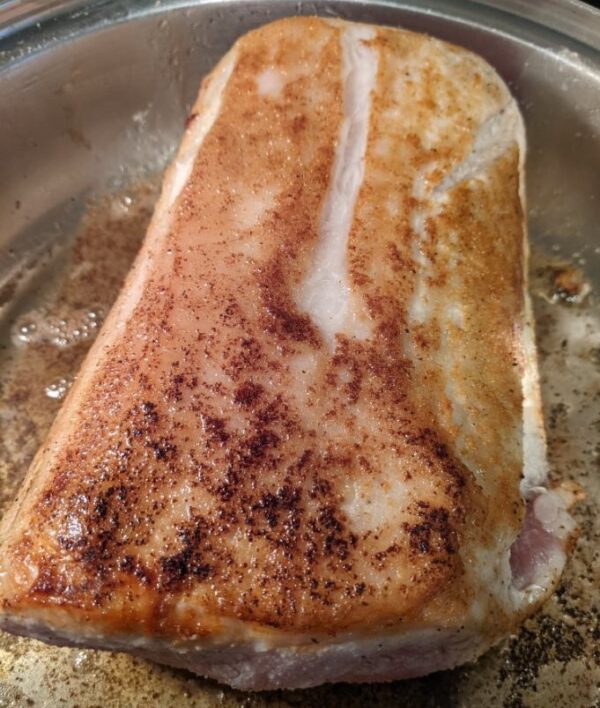 This recipe is made with pretty common ingredients, but not everyone has molasses in their cupboards. Some good substitutes for molasses include dark corn syrup, honey, maple syrup, or just some extra brown sugar. If you don't have balsamic vinegar you can substitute it with apple cider vinegar. I like to deglaze the skillet by adding all of the sauce ingredients to the pan and simmering for a couple of minutes. If you choose to not brown the pork first, you can also skip the deglazing step. Simply whisk the sauce ingredients together in a small bowl and pour over the top of the pork loin in the slow cooker.
You can serve this pork loin sliced or shredded. A pork loin roast should be cooked to an internal temperature of at least 145° F for slicing or 160° F for shredding.  A pork shoulder roast should be cooked to at least 165° F to be sliced or 190° F to be shredded. Allow the meat to rest for 5-10 minutes before carving.
I served it shredded on top of rice. It would be great with mashed potatoes, mashed or riced cauliflower, sweet potatoes, or your favorite sides.
To thicken the sauce to be used as a gravy, you can do so by pouring the sauce from the crockpot into a saucepan and adding cornstarch mixed with a little cool water. Add 1 tablespoon of cornstarch slurry at a time, simmer, and whisk until you reach your desired thickness.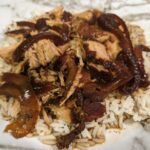 Print Recipe
Slow Cooker Pork Loin Roast
Ingredients
1

3-5 lb

pork loin roast

1

Tbsp

vegetable oil

1

tsp

garlic powder

salt and pepper (to taste)

1

small

sliced onion

(optional)

½

cup

water

¼

cup

packed brown sugar

2

Tbsp

molasses

¼

cup

balsamic vinegar

2

Tbsp

soy sauce

2

tsp

minced garlic
Instructions
Add vegetable oil to a large skillet, and heat to medium-high. Season the pork loin roast on all sides with garlic powder, salt, and pepper. Sear the pork for 2-3 minutes per side or until golden brown.

Place the pork loin in the slow cooker, fat side up. Cover with sliced onion if using.

Deglaze the skillet. Add water, brown sugar, molasses, balsamic vinegar, soy sauce, and minced garlic to the skillet. Over medium heat scrape and stir all the browned bits from the pan into the sauce, simmering for 3-4 minutes.

Pour the sauce over the pork, cover, and cook on low for 4-5 hours. Or on high for 2-3 hours.

When done cooking, remove the meat from the pot and transfer it to a cutting board. Cover with foil and let rest for 5-10 minutes before slicing or shredding.
Nutrition
Serving:
1
g
|
Calories:
391
kcal
|
Carbohydrates:
17
g
|
Protein:
52
g
|
Fat:
12
g
|
Saturated Fat:
5
g
|
Cholesterol:
143
mg
|
Sodium:
455
mg
|
Potassium:
995
mg
|
Fiber:
1
g
|
Sugar:
16
g
|
Vitamin A:
1
IU
|
Vitamin C:
1
mg
|
Calcium:
41
mg
|
Iron:
2
mg