This post may contain affiliate links, please see my disclosure policy to learn more.
When my children were young and I worked a full-time job it was just so easy to grab a box of Bisquick and throw together a quick meal. Pancakes, waffles, or biscuits for breakfast or Impossible Pie, Impossibly Easy Quiche, or dumplings for dinner. Making your own baking mix really doesn't take much time and it can be used in a variety of recipes. If made with shortening it can be stored in the pantry in an airtight container for 6 months. If made with butter it can be stored in the refrigerator or freezer for 3 to 6 months.
This Homemade Biscuit Mix can be used in any recipe that calls for Bisquick. Bisquick recipes usually call for milk so if you typically use the baking mixes that call for water, I have a recipe for that too – Amish Baking Mix with just a couple more ingredients.
Sift the dry ingredients together, I do it twice to make sure it gets mixed well. Use a pastry blender or 2 knives to cut in the shortening or butter. You can use a food processor, but be careful not to over-blend.
You can make this mix with whole wheat pastry flour or gluten-free flour in place of all-purpose flour.
Try these Quick Hot Cross Buns made with this Homemade Biscuit Mix.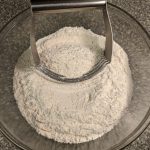 Print Recipe
Homemade Biscuit Mix
Ingredients
3¼

cups

all purpose flour

1½

Tbs

baking powder

1

tsp

baking soda

1½

tsp

salt

2

tsp

sugar

½

cup

shortening or butter
Instructions
Sift all dry ingredients together. Cut in butter or shortening until it resembles a coarse meal.

Store in airtight containers (In refrigerator or freezer if using butter). When measuring for a recipe, lightly put in the cup and level, don't pack tightly.