This post may contain affiliate links, please see my disclosure policy to learn more.
German Potato Salad
Potato salad is believed to have originated in Germany, spreading largely throughout Europe, European colonies, and later Asia. There are many different ways to make German potato salad and different regions have different ways of doing things. This warm, bacon-loaded recipe is mostly made in the southeastern region of Germany, in Bavaria.
The tangy bacon dressing makes German potato salad a perfect alternative to traditional mayo-based potato salads. German potato salad goes great with any grilled meat, especially German sausages.
Potato
Yellow or red potatoes work really well in this salad. Yellow and red potatoes are considered waxy varieties that hold their shape after being cooked. If you prefer you can cook the potatoes whole and peel them while they are still hot or you can leave the skin on. This recipe called for peeling the potatoes before cooking them, I thought it worked really well and I didn't have to play "Hot Potato".
Bacon
I love cooking my bacon in the oven. Oven Baked Bacon is so easy and you don't have to deal with splattering grease. No matter how you decide to cook it you will want to reserve the bacon grease. It is going to be the base of the salad dressing, so whatever you do, don't discard it.
The Dressing
The dressing consists of bacon grease, onion, vinegar, water, sugar and celery salt.
Bacon Grease – You'll want 2 tablespoons to 1/4 cup of bacon grease to cook the onion in.
Onion – You can use any type of onion that you like in this salad. Cook the onion in the bacon grease just until they are softened and translucent. Don't drain off the bacon grease.
Vinegar – I like this salad with apple cider vinegar, but white vinegar will work as well.
Water – Chicken or beef broth would work as a substitution for the water if you want to change it up a little.
Sugar – The vinegar and sugar work together to create a slightly sweet and tangy dressing.
Celery Salt – I think celery salt adds a nice flavor to this dish, but regular salt can be used instead.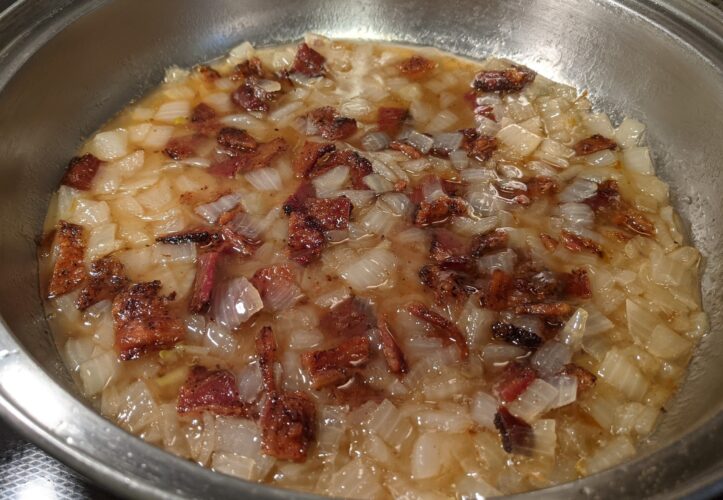 Add half of the bacon back into the dressing and gently stir the potatoes into the dressing and heat through, then transfer to a serving dish. Crumble the remaining bacon over the top, and serve warm. Top with fresh or dried parsley if desired.
German Potato Salad is traditionally served warm, but you can serve it warm or cold, It's just a matter of personal preference. The recipe includes instructions for serving either warm or cold.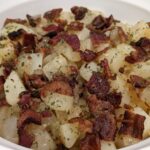 Print Recipe
German Potato Salad
Ingredients
4

cups

diced peeled potatoes

8

slices

bacon

1

medium

onion, diced

½

cup

apple cider vinegar

¼

cup

water

⅓

cup

white sugar

1

tsp

celery salt

(or regular salt)

fresh or dried parsley

(optional)
Instructions
Place the potatoes into a pot, and fill it with enough water to cover them. Bring to a boil, and cook for about 10 minutes, or until easily pierced with a fork. Immediately drain, and set aside to cool slightly.

Using your preferred method fry the bacon until browned and crisp. Reserve the bacon grease.

Combine the bacon grease and onion in a large skillet, and cook over medium heat until the onions are translucent and just starting to brown.

Add the apple cider vinegar, water, sugar, and celery salt to the pan. Bring to a boil and stir until sugar is dissolved. If serving warm add the potatoes and half of the bacon to the pan and heat through, then transfer to a serving dish. Crumble the remaining bacon over the top, and serve warm. Top with fresh or dried parsley if desired.

To serve cold, pour the sauce and half the bacon over the top of the potatoes in a bowl. Stir to combine and refrigerate until ready to serve, sprinkle the remaining half of the bacon on top before serving.
Nutrition
Serving:
1
cup
|
Calories:
261
kcal
|
Carbohydrates:
56
g
|
Protein:
5
g
|
Fat:
2
g
|
Saturated Fat:
1
g
|
Cholesterol:
2
mg
|
Sodium:
600
mg
|
Potassium:
947
mg
|
Fiber:
5
g
|
Sugar:
20
g
|
Vitamin A:
5
IU
|
Vitamin C:
43
mg
|
Calcium:
35
mg
|
Iron:
2
mg