This post may contain affiliate links, please see my disclosure policy to learn more.
Raspberry Ice Cream, is a cool and refreshing treat to help beat the heat on a hot summer day.
I have an abundant supply of raspberries, fresh for a couple of weeks in the summer or in my freezer to use throughout the year. I have summer-bearing raspberry bushes in my garden. They only produce one crop of berries over a few weeks in the summer, but I usually end up with several gallons of berries. The bushes would take over my entire garden if I allowed them to.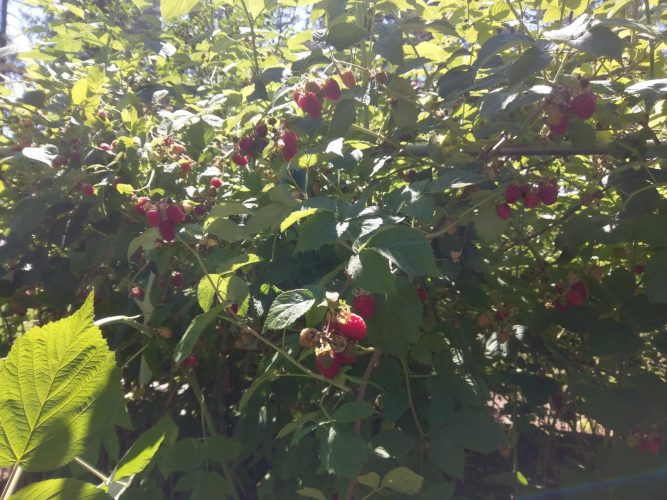 A 4 quart Ice Cream Maker is needed to make this recipe as written, it makes about 3 quarts. I've included instructions for making this ice cream without a machine, located below the recipe box. You may want to cut the recipe in half or use two small shallow containers if you plan to make it without a machine.
Some people prefer to strain the seeds out of the raspberries, my family doesn't mind eating the seeds so I don't bother. To strain out the seeds, blend the raspberries in a blender. Then slowly press them through a mesh strainer leaving the seeds in the strainer and using only the puree in the recipe.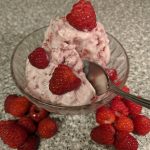 Print Recipe
Raspberry Ice Cream
Ingredients
4

cups

raspberries (fresh or frozen)

2

cups

sugar (divided)

1

cup

milk

2½

cups

heavy whipping cream

2½

cups

half & half

2

tsp

vanilla extract
Instructions
In a medium bowl, combine the raspberries and 1 cup of sugar. Refrigerate for 30 minutes.

Combine milk, half & half, heavy whipping cream, 1 cup sugar, and vanilla. Pour into ice cream maker.

Add the raspberries to the ice cream maker, and let the machine mix them in. If removing the seeds, blend in a blender and then press through a mesh strainer using only the puree.

Follow the instructions for your ice cream machine, until the ice cream is at soft serve consistency. Serve as soft serve or freeze for 2-3 hours for harder ice cream.
Nutrition
Serving:
1
serving
|
Calories:
398
kcal
|
Carbohydrates:
43
g
|
Protein:
4
g
|
Fat:
25
g
|
Saturated Fat:
15
g
|
Polyunsaturated Fat:
1
g
|
Monounsaturated Fat:
6
g
|
Cholesterol:
76
mg
|
Sodium:
53
mg
|
Potassium:
206
mg
|
Fiber:
3
g
|
Sugar:
40
g
|
Vitamin A:
953
IU
|
Vitamin C:
11
mg
|
Calcium:
122
mg
|
Iron:
0.4
mg
Don't have an Ice Cream Maker? No problem. Here's how to make it without a machine.
Pour the ice cream mixture into a chilled shallow container. Preferably a glass or metal dish. Store in the coldest part of your freezer. Once the edges start to freeze, take the mixture out and beat it using a hand mixer. Beating it will help make it smooth and creamy. Ice cream needs to be constantly churned while it freezes so that it turns out smooth and creamy. If you simply leave your mix to sit in the freezer, large ice crystals will form.
Return the pan to the freezer. Every 30 minutes or so, take it back out and beat the ice cream again. If at any time the ice cream becomes too hard, place it in the refrigerator until it becomes soft enough to beat, and then continue the process. Repeating until it is firmly frozen but still creamy, usually takes around 2-3 hours. Once it's fully frozen, the mixture should still be smooth and creamy.