This post may contain affiliate links, please see my disclosure policy to learn more.
Too hot to cook inside? Time to fire up the grill. I love being able to cook outside when the weather allows. Deliciously sweet grilled corn on the cob is perfect for any summer time meal. Grilled corn is actually really easy to make and there are several methods to choose from.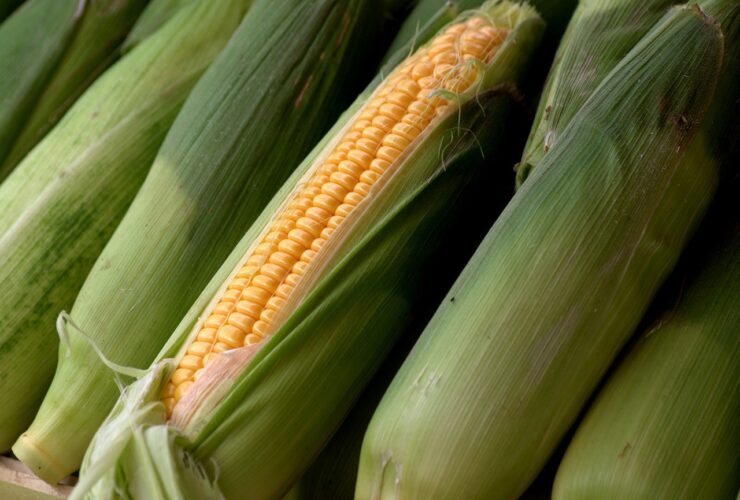 In the Husk
One of the most common methods is to grill the corn with the husks still on. To make them this way you may want to partially shuck the corn and remove the silk but this isn't a necessary step. You can just cut the straggly silks off the ends and the corn is ready for the grill. Many recipes call for soaking corn on the cob in water first, before grilling. If you are cooking fresh corn then soaking is not necessary, but will help keep the husks from burning too much. Feel free to soak the corn for 10 minutes up to 2 hours before cooking.
Cook corn in husks over medium high heat, turning every 3 to 5 minutes. Start checking for doneness after about 15 minutes. Grilling corn in the husk can take anywhere from 15 to 30 minutes depending on your grill and temperature fluctuations.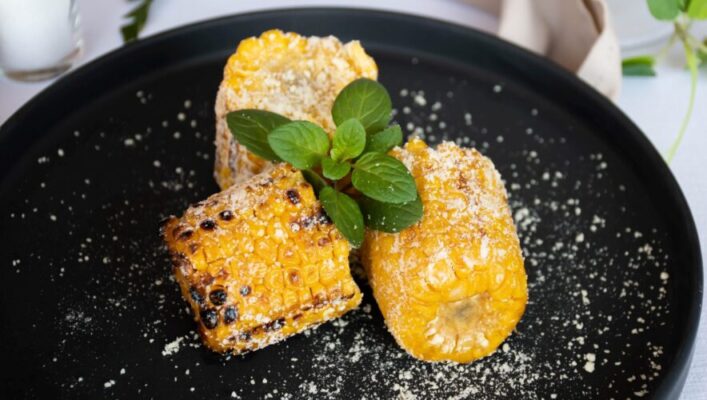 Wrapped in Foil
Grilling corn in foil is relatively easy and the prep work is minimal. There is no need to soak the corn, just shuck and clean corn and then wrap in aluminum foil. If you like you can add butter and seasoning to the corn inside the foil before sealing tightly. Wrap each ear of corn with a large sheet of heavy duty foil making sure all sides are covered. Foil acts like the husk and traps the steam inside the corn which keeps the ears from drying out while cooking.
Preheat the grill to medium-high heat, place the foil packets on the grill grates and grill for 15 to 25 minutes, turning occasionally.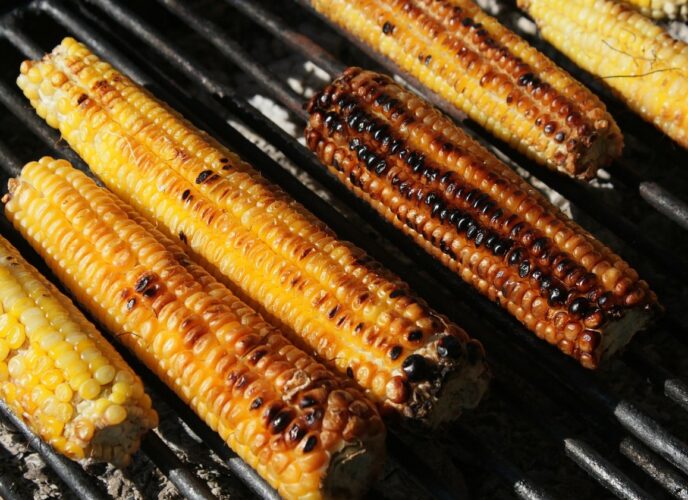 Straight on the Grill
This is the quickest and easiest method and is the method featured in the recipe card below. Shuck and clean the corn, no soaking necessary. Preheat the grill to medium-high heat, place the shucked corn on the grill, turn every couple minutes until hot, tender and lightly charred all over.
This method should only take 10 to 15 minutes depending on your grill and temperature settings. Corn cooked directly on the grill will lose some moisture due to the direct heat. To prevent the corn from becoming dried out or chewy, do not over-cook them.
Keep it simple and serve with butter, salt and pepper, or add your favorite toppings and enjoy.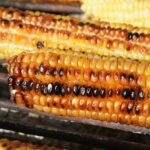 Print Recipe
Easy Grilled Corn
Ingredients
2-10

ears of corn

(shucked and cleaned)

oil or butter

(optional)
Instructions
Lightly oil the grill grates and preheat to medium-high. You can lightly oil or butter the corn as well if you wish. Place corn on grill over direct heat.

Turn the corn when dark spots appear every 1-3 minutes, until ears are uniformly cooked. Cook until golden brown all over, but not black. The ear should be speckled with char spots. Cooking time varies depending on your grill. Usually 10-15 minutes.
Nutrition
Serving:
1
ear of corn
|
Calories:
77
kcal
|
Carbohydrates:
17
g
|
Protein:
3
g
|
Fat:
1
g
|
Saturated Fat:
1
g
|
Polyunsaturated Fat:
1
g
|
Monounsaturated Fat:
1
g
|
Trans Fat:
1
g
|
Sodium:
14
mg
|
Potassium:
243
mg
|
Fiber:
2
g
|
Sugar:
6
g
|
Vitamin A:
168
IU
|
Vitamin C:
6
mg
|
Calcium:
2
mg
|
Iron:
1
mg
Send Me Recipes!