This post may contain affiliate links, please see my disclosure policy to learn more.
Not the best-sounding name, but Dump Cakes take very few ingredients and are super easy to make. You just dump all the ingredients in a pan and bake, it's that easy.
You can use 1 can of any flavor of pie filling that you want. Or if you prefer you can use 4 cups of fresh or frozen berries mixed with 1/2 cup sugar. The pie filling or fruit goes in the bottom of a 9″ x 13″ baking dish.
Top the fruit layer with one box of dry cake mix. I usually use a white, yellow, or butter-flavored cake mix, but feel free to experiment with other flavors. For a Black Forest Dump Cake use chocolate cake mix with cherry pie filling.
You can add 1/2 cup of quick oats or coconut to the dry cake mix, it is an optional ingredient, I only add it with certain flavors that I think it will complement. Thinly slice the cold butter and cover the cake mix or you can melt the butter and pour it over the top of the cake mix. I feel I get it more evenly covered using cold butter.
For this Dump cake, I used 1 can of Blueberry Pie Filling along with some frozen huckleberries and a white cake mix. If the dump cake isn't golden brown after 45 minutes you can broil it for 1 minute if you like. Let it sit for at least 5 minutes before serving.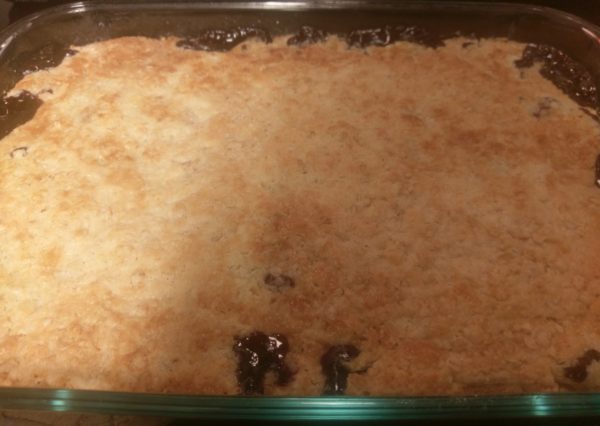 Last week I made an awesome Pineapple Dump Cake. I thickened a can of crushed pineapple and some pineapple tidbits with cornstarch to replace the pie filling and I used a pineapple cake mix on top. This is one that I would suggest adding coconut to the topping, but it is also great without.
Serve warm with vanilla ice cream or whipped cream.
Print Recipe
Dump Cake
Ingredients
1

21 oz

can pie filling

1

box cake mix

½

cup

quick oats or coconut (optional)

¾

cup

butter (sliced cold or melted)
Instructions
Spread pie filling in the bottom of a 9" x 13" pan. Mix oats or coconut (optional) with dry cake mix and sprinkle evenly over the top of the pie filling. Place sliced butter or pour melted butter evenly over the top of the cake mix.

Bake for 45 minutes. Let cool for 5 minutes before serving.
Slow Cooker
Dump Cakes can also be made in the slow cooker. Just dump the ingredients in the slow cooker and cook on high for 2 hours.
To make a dump cake outdoors while camping or in a fire pit, use a Dutch Oven.  Put 6-10 hot briquettes under the bottom of the pan and the same on the lid, and cook for 25-45 minutes until the cake smells done. Dutch oven cooking times can vary, if you can smell a burning smell, then you've baked it too long.