This post may contain affiliate links, please see my disclosure policy to learn more.
Creamy mushroom pork chops are classic comfort food. They are perfect for any night of the week. Most home cooks already have a similar recipe, with the main ingredients being pork chops and cream of mushroom soup. Cream of mushroom soup combined with extra fresh mushrooms and sautéed onions makes amazing gravy. As always you can sub any ingredients at your own discretion.
Pork Chops
You can use bone-in or boneless pork chops for this recipe or you could even sub chicken if you want. Be sure to season each side of your pork chop before searing. For a juicy pork chop, you want to quickly sear it on the stove before transferring it to the oven. Searing creates a crust that will seal in the juices and keep your chops tender while baking. If you have an oven-safe skillet and all your pork chops fit in it, you can use it for this recipe. Add oil to a large skillet and sear the pork chops for 3-5 minutes per side over medium/high heat. Remove the pork chops to a plate or an oven-safe baking dish.
Vegetables
You can use your favorite mushrooms and onions in this recipe, I used wild morel mushrooms and yellow onion. Add the onions to the skillet and cook until they are almost translucent, add the mushrooms and cook a few more minutes. Add 2 cloves of minced garlic and continue to cook for an additional 1-2 minutes. Spoon the cooked vegetables over the top of the pork chops.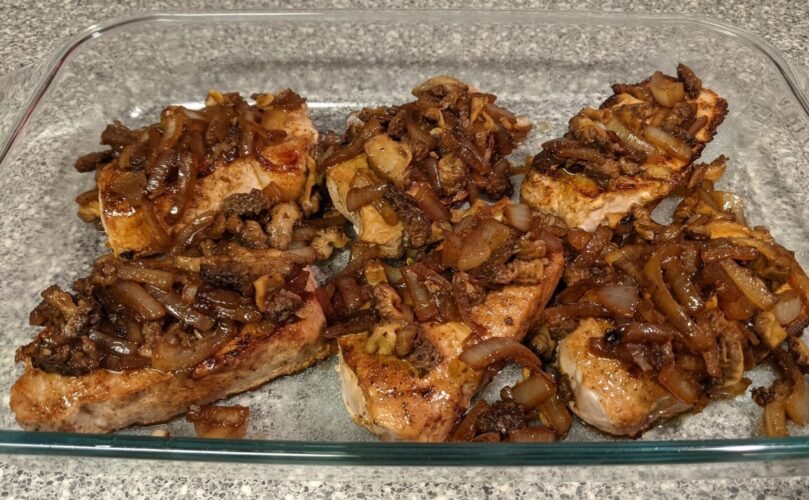 Sauce
Wine, chicken broth, or water can be used to deglaze the skillet. For the most flavor be sure to scrape up all the brown bits from the bottom of the pan. Any flavor of condensed cream soup can be used for the cream of mushroom soup or even homemade cream soup. Stir in the 2 cans of mushroom soup and milk (cream or half & half). Pour the sauce over the top of the pork chops in an oven-safe dish.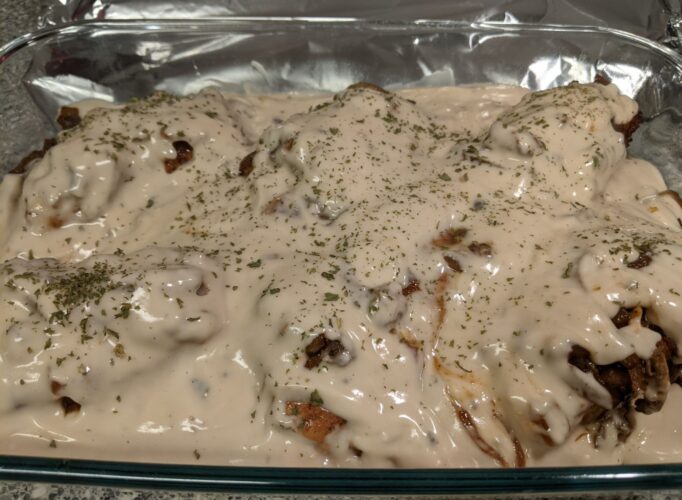 Cover the casserole dish with foil and place it in preheated 350° oven for 30 minutes. Remove the foil and cook an additional 10 minutes or until the pork is tender and has an internal temperature of at least 165°.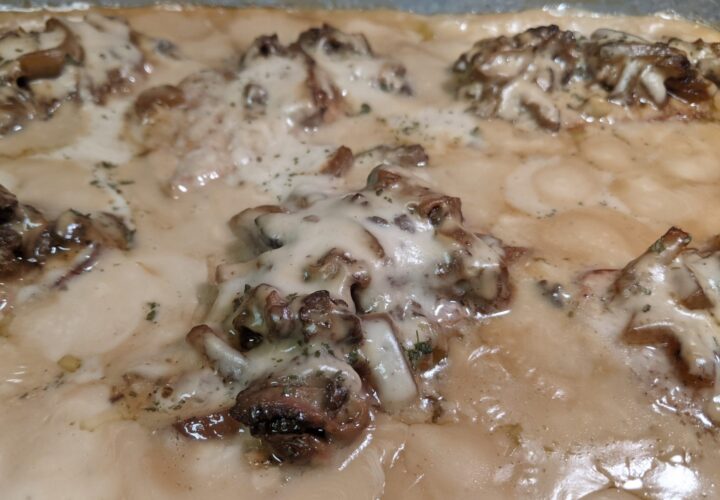 To soak up all the awesome gravy you can serve these creamy pork chops over rice, mashed potatoes, pasta, or mashed cauliflower if you wish.
This recipe can also be made completely on the stovetop if you prefer. After following all of the steps, return the pork chops to the skillet. Cover and reduce temperature to medium-low. Simmer for 20 to 30 minutes, or until chops are cooked through. If you want an easier less hands-on version try Slow Cooker Creamy Mushroom Pork Chops.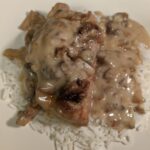 Print Recipe
Creamy Mushroom Pork Chops
Ingredients
4-6

pork chops

garlic pepper or salt and pepper

(to taste)

1

medium

onion

(chopped or sliced)

2

cloves

minced garlic

1

cup

fresh sliced mushrooms

½

cup

white wine or chicken broth

2

can

cream of mushroom soup

½

cup

milk

(cream or half & half)
Instructions
Season both sides of pork chops with garlic pepper (or salt and pepper) to taste.

In a large skillet heat a couple of tablespoons of oil over med-high heat. Brown the chops for 3-5 minutes per side. Remove the pork to an oven-safe dish.

Add the onion to the skillet and sauté until they start to turn translucent, add mushrooms and continue cooking for 3-5 minutes. Add minced garlic and cook for 1-2 more minutes. Spoon the onion, mushrooms, and garlic on top of the pork chops.

De-glaze the skillet with 1/2 cup wine or chicken broth. Whisk in 2 cans of soup and milk, just until smooth.

Pour sauce over the chops. Sprinkle on some dried herbs if desired (oregano, parsley, thyme, or rosemary). Cover the dish tightly with aluminum foil. 

Bake covered for 30 minutes, then remove foil and continue cooking uncovered for another 10-15 minutes or until done.
Nutrition
Serving:
1
chop
|
Calories:
329
kcal
|
Carbohydrates:
9
g
|
Protein:
35
g
|
Fat:
12
g
|
Saturated Fat:
5
g
|
Trans Fat:
1
g
|
Cholesterol:
97
mg
|
Sodium:
796
mg
|
Potassium:
748
mg
|
Fiber:
1
g
|
Sugar:
2
g
|
Vitamin A:
39
IU
|
Vitamin C:
2
mg
|
Calcium:
44
mg
|
Iron:
2
mg