This post may contain affiliate links, please see my disclosure policy to learn more.
I always seem to have bananas in the freezer. I'm not usually a huge fan of banana bread, but man I love the smell of it cooking and I really like this "lighter" loaf more than the heavier denser loaves I usually make. Also, the crumb topping just takes it to a whole new level. I don't think I'll ever make another banana bread without adding crumb topping to it.
I made this batch with vanilla-flavored Greek yogurt and it was amazing. It can be made with plain Greek yogurt, regular yogurt, or sour cream. Update 4/27/20 – I just made this bread again using half Greek yogurt and half sour cream, still delicious.
This recipe can easily be cut in half as it makes a lot of bread, I made two small loaves and one large loaf with this recipe. The smaller loaves were done sooner than the large ones. If making small loaves start checking on them after about 50 minutes or so. Depending on your oven and the size and type of pan you use the timing can be difficult to get right on banana bread. The more loaves you have in the oven can also affect the cooking time. Most banana bread recipes say around or about when referencing the cooking time. Recipe times are a guide, they should be adjusted to your individual conditions and any variations on the ingredients.
The first loaves I took out of the oven were devoured before the larger loaf even made it out.
Update 4/27/20 – When I made this bread again, I made 1 small loaf and two larger loaves. The small loaf was done right at 50 minutes and the two larger loaves were done at exactly 1 hour. A little odd because the last time I made them the large loaf took 1 hour and 15 minutes to get done. I filled the pans right around half full which may have contributed to them cooking a little faster.
This is a "lighter" textured banana bread, meaning it's not as heavy or as dense as some loaves are. Quick bread made by creaming fat and sugar together are more tender and "cakelike". Creaming adds air, which ultimately creates a lighter texture. Choosing a solid fat like butter instead of oil also helps lighten the loaf since liquid fat doesn't cream like a solid fat will.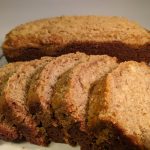 Print Recipe
Banana Crumb Bread
Ingredients
½

cup

butter softened

1½

cups

granulated sugar

2

eggs

4

very ripe bananas mashed

1

cup

sour cream or yogurt

1½

tsp

vanilla

1½

tsp

ground cinnamon

¼

tsp

nutmeg

½

tsp

salt

2

tsp

baking soda

3

cups

all-purpose flour

1

cup

chopped walnuts (Optional)
Crumb Topping
⅓

cup

brown sugar

½

cup

flour

1

tsp

cinnamon

3

Tbs

Butter cold
Instructions
Preheat oven to 325°. Grease 4 mini loaf pans or 2 large loaf pans. Dust greased loaf pans with cinnamon sugar if desired(Optional).

In a large bowl, cream butter and sugar together. Mix in eggs, mashed bananas, sour cream or yogurt, vanilla, cinnamon, and nutmeg.

Add flour, baking soda, and salt. Mix just until dry ingredients are wet. Don't over-mix. Fold in walnuts if using. Divide into prepared pans. Don't fill pans more than 2/3 full or they may overflow. Use more pans if needed or cook the excess batter in muffin tins.
Crumb Topping
In a small bowl mix brown sugar, flour, cinnamon, and butter together with a fork or pastry cutter until coarse crumbs are formed. Sprinkle crumbs on top of the prepared batter.

Bake for around 50 minutes to 1 Hour 15 minutes, or until a knife or toothpick inserted in the center comes out clean. You can cover it with tin foil for the last 15 to 20 minutes to prevent the edges from getting too dark. Smaller pans may take less time while larger pans may take a little longer.