This post may contain affiliate links, please see my disclosure policy to learn more.
If you're not using Amazon's Subscribe & Save you are missing out on a lot of potential savings. Here is a rundown of how to use Amazon Subscribe & Save. You can also stack Amazon coupons with Subscribe & Save discounts to maximize your savings.
When you order an item on Amazon using Subscribe & Save, you are signing up for repeat deliveries of a product in exchange for a 5-15% discount on Amazon's current price. Rather than shipping immediately, any item you subscribe to is automatically added to your next monthly Subscribe & Save delivery order, which is scheduled for the same day each month. There's no obligation to continue shipments after you've received your first one. This means you can add or delete items, change dates, or even cancel with no hassle.
You will receive an Email from Amazon 5 days before your order is shipped each month so that you can make changes to your order (add, delete, or skip items to the following month). Subscribe & Save orders ship for free; you don't need to have Prime (Unless the item says Prime Only), and there is no minimum purchase. But if you'd like to try Amazon Prime they offer a 30-day free trial.
On Subscribe & Save orders with 1-4 items you should save 5%, when you have 5 or more items you should save 10-15%. I always have 5 items in my Subscribe & Save to maximize my savings. Even if some of the items are filler items for $1-$3, if you are saving 15% on a more expensive item you are saving way more than the $1-$3 filler item costs.
If I see a great price on something, I might subscribe to get the deal even if I only need it once. Example: I took advantage of a sale on Q-tips Cotton Swabs, 500 Count (Pack of 4) for $6.72 which is only $1.68 per pack of 500. These Q-tips were $3.23 per pack at Walmart, that's a $6.20 saving by buying them in bulk on Amazon Subscribe & Save. Do I need 2,000 more Q-tips delivered to my door next month? No, so after the item ships, I go into my account (under Account & Lists) and (Your Subscribe & Save Items) cancel that subscription right away. You can wait until Amazon sends you the reminder E-mail 5 days before your upcoming order. I like to do it immediately, so I don't forget.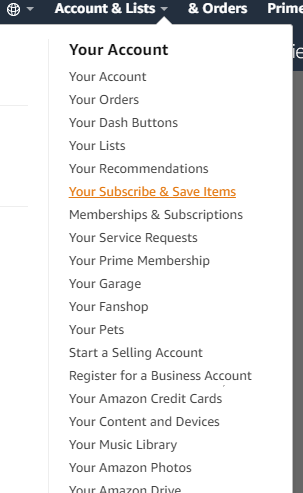 Select any eligible item from Amazon's Subscribe & Save store (items are always changing).
Choose the quantity of the item you'd like to receive as well as a delivery schedule. You can choose to have your order delivered in monthly intervals from 1 month to 6 months. Remember you can always make changes before the next month.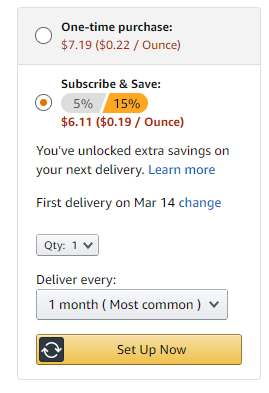 Click "Set Up Now" or "Subscribe Now," and enter your payment information. Amazon will process your payment when your order ships, although it may show as payment pending until it ships.
Amazon prices do change quite often. When you choose to Subscribe & Save the price is locked in for the first order only. The first order goes through at whatever price you initially added it to your cart for. However, any additional orders in subsequent months will go through at whatever the current price is at the time your order is processed. It's the same process if you are able to use a coupon with your order. Once your first order ships (with the clipped coupon), it will not apply to future shipments, so you will need to cancel the item after it ships. You can then start it up again if you wish with any new coupons for future months' orders.
It's all pretty easy once you get used to it.  Save gas money and get items for less than you would in the store. And, always look to see if there is a coupon to combine with your favorite Subscribe & Save items.