This post may contain affiliate links, please see my disclosure policy to learn more.
Making your own Homemade Vanilla Extract is really easy to do, the hardest part is the waiting. Homemade vanilla extract tastes better and becomes darker in color the longer it sits. While it can be used after just 2 months it will taste better if you can wait for at least 6 months before using it. Homemade Vanilla Extract makes a great gift. If you want to be able to gift at Christmas time, start it now. If you gift it before it is done "brewing" just add a note or label with the date the vanilla will be ready.
There are only two ingredients needed to make Homemade Vanilla Extract. Vanilla beans and alcohol, that's it! You will also need a glass jar or bottle with a tight-fitting lid. The alcohol bottle will work as well just make sure you use 5-6 beans per cup (8 ounces) of alcohol. You can use any alcohol as long as it is around 80 proof or 40 percent ABV. The most popular choices are vodka, bourbon, brandy, or rum.
You can use inexpensive alcohol as it's the quality of the vanilla beans that count. Grade B Vanilla beans are specifically meant for extracting and generally yield the most flavor.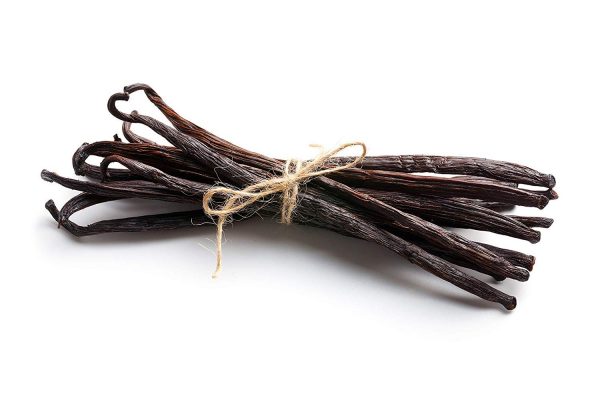 Madagascar Vanilla Beans – Traditional, rich, creamy, full-bodied woody flavor.
Tahitian Vanilla Beans – Light floral and fruity overtones, with hints of chocolate.
Mexican Vanilla Beans – Mellow, creamy, similar to Madagascar beans but with a spicier vanilla flavor.
This extract will last for years. You can keep topping it off with alcohol as you use it. Just keep the beans covered with alcohol and give it a good shake occasionally. With this method, the beans will eventually need to be replaced, when you notice the vanilla becoming less intense or when it starts to lose flavor. Just remove the old beans, add fresh beans, shake, and continue to use/refill.
The original beans should be removed or cut smaller after the first use if you don't have any more alcohol to refill what was used. The beans will become slimy if they aren't almost fully submerged in alcohol. Aged extract without the beans will last indefinitely.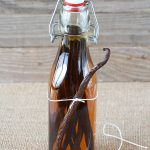 Print Recipe
Homemade Vanilla Extract
Ingredients
5-6

vanilla beans

1

cup

80 proof vodka (bourbon, brandy or rum)
Instructions
Using a sharp knife, slit the vanilla beans down the middle. If necessary cut the vanilla beans into smaller pieces to fit into your jars or bottles.

Pour one cup of vodka (or alcohol of your choice) over the top of the beans. Make sure the vanilla beans are completely submerged and add a little more alcohol if necessary.

Store vanilla at room temperature out of direct sunlight. Shake the bottle once per week or so.